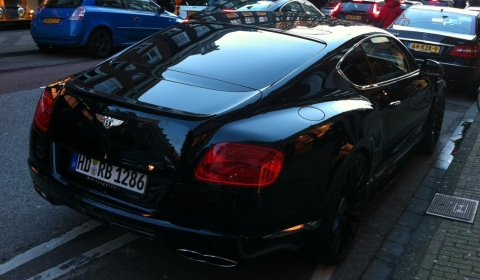 Dutch automotive blog Autoblog.nl has spotted what can only be described as a "footballer's car", a Bentley Continental GT V8 modified by Mansory.
The footballer in question is Ryan Babel, a striker for Dutch football club Ajax. Ordinarily, a story like this is of little interest. Usually! The interest comes from what happened to Ryan Babel earlier in the year. During an Ajax football match, Ryan's Audi RS3 was stolen from the parking lot, a feat to which Babel offered a $10,000 reward for anyone who could return his Audi. Now, his Mansory edition Bentley Continental GT V8 has been spotted, while Ryan was out on a shopping spree.
The Mansory edition Bentley Continental retains little of the original bodywork, opting for custom front/rear fascias, mirrors and side skirts. Depending on the needs of the customer, engine, exhaust and interior upgrades are not out of the question, although little information is known about how extensive the modifications to Babel's car are.