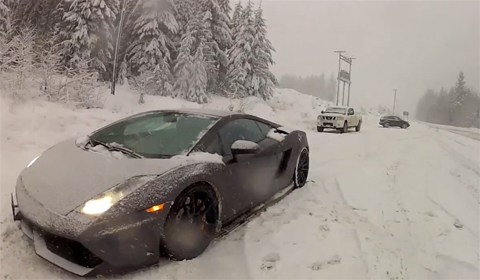 New YouTube user Damon Fryer recently uploaded the following captivating video of his Lamborghini Gallardo sliding and driving up Mt. Washington on Vancouver Island on a recent ski trip.
Jon Olsson unquestionably pioneered the craze of bringing supercars of any demeanour to the snow with his large collection of Italian, German and Japanese exotics all being used for the very purpose of shuttling his much loved skiing gear around some of the world's most pristine ski slopes.
This particular Gallardo, with number plates of 'NO L1MT' was used by Fryer to go snowboarding and based on the exterior shots of the car, no snow chains can been seen suggesting that a set of winter tires is all that separates the car's 5.0 liter 500hp V10 engine from the road to which the Gallardo seems to cope quite well with the slippery conditions!