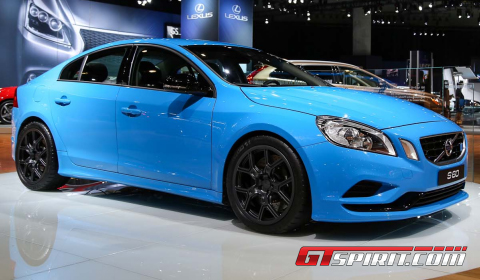 Volvo has publically revealed its Volvo S60 Polestar Performance Concept at the Los Angeles Auto Show 2012. The vehicle was developed by Volvo Cars Official Motorsports and its racing and tuning partner Polestar for an as of yet unnamed client.
The engine is a Volvo T6 inline six (B6304T4) producing 508hp at 6,500rpm and 575Nm at 5,500rpm. The redline is placed at 7,100rpm. The powerplant has a modified cylinder head and combustion chambers, a modified inlet manifold and air intake, special manufactured conrods, a Garret 3171 turbo and a Ferrita 3.5 inch stainless steel exhaust system. The powertain offers a reinforced M66C (close ratio) manual six-speed gear box converting the power from the engine to the Haldex E-LSD at the rear and the Haldex Gen4 XWD system.
The total weight is 1,640kg and it received an optimized weight distribution. The aerodynamics were tested in Volvo's windtunnel and include a lowered front splitter and larger rear spoiler to reduce high speed lift, a carbon fiber diffusor and a body which has been widened 20mm front and rear.
On the inside, the cabin has Polestar designed seats with increased support. Alcantara was fitted to all functional areas such as the steering wheel, gear knob, and seats to ensure maximum grip. The center console was lowered for optimised gear-lever ergonomics.
For more information on the Volvo S60 Polestar Performance Concept check our official story!
[Photos by Effspot Photography]