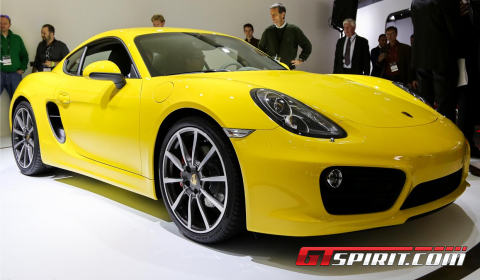 Porsche has pulled the wraps off their third generation Cayman S at the 2012 Los Angeles Auto Show. The new 2013 Porsche Cayman has been re-engineered from the ground up. It is lower and longer, lighter and faster, more efficient and more powerful than ever. The German sports car has a longer wheelbase, wider track and larger wheels.
Two different flat-six cylinder engines are mounted just in front of the rear axle, surrounded by a lightweight aluminium and steel body. The Cayman is powered by either a 2.7 liter engine with 275hp; with the Sport Chrono package it accelerates from a standstill to 60 mph in 5.1 seconds. The 3.4 liter engine in the Cayman S produces 325hp; with PDK and the Sport Chrono package it sprints from 0-60 mph in 4.4 seconds.
The new Cayman will arrive dealerships in Spring 2013 starting at $52,600 for the Cayman and $63,800 for the Cayman S, not including a destination charge of $950.
[Photos by Effspot Photography]