German tuner Brabus has released a new Power Diesel program featuring models, which are built in small-series production based on the latest Mercedes-Benz 350 CDI BlueEfficiency models. The common denominator is a Brabus D6S Power Diesel engine with a peak torque of 690Nm and depending on the model a rated power output of up to 313hp.
First up is the Brabus E 350 CDI Power Diesel Coupe. The two-door is available in two versions with or without Brabus aerodynamic-enhancement kit at a starting price of 53,879 euros. The Brabus D6S Power Diesel engine produces 313hp of power and a peak torque of 690Nm, on tap from a low 1,600rpm.
Powered by this engine the coupe sprints from rest to 100km/h in just 5.9 seconds and reaches an electronically limited top speed of 250km/h. The stainless-steel quad sport exhaust system can be installed together with the sport springs and the Monoblock F wheels with a diameter of 19 inches. The Power Diesel Coupé in version 2 with full body-styling kit sells for 58,534 euros.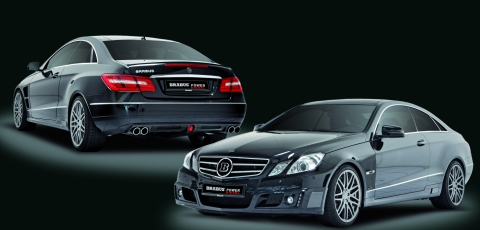 The second model is the Brabus CLS 350 CDI Power Diesel Shooting Brake. The new power output of 313hp is based on the new Mercedes CLS 350 CDI Shooting Brake. The CLS has a sprint time of 5.9 seconds for 0-100km/h and an electronically limited top speed of 250km/h.
The total price of 68,879 euros includes exclusive components such as Monoblock F 19 inch cross-spoke wheels, ride height lowering and a stainless-steel sport exhaust. For a price of 75,776 euros the model is available as a version 2 with an exterior design upgrade.
The third model is a SUV, the Brabus ML 350 CDI Power Diesel. The model is based on the Mercedes ML 350 CDI and it sells for just 71,121 euros. The SUV includes bi-xenon headlights, the Comand system, automatic climate control, leather upholstery, panoramic roof, backup camera and many more details. With a power output of 309hp and a peak torque of 690Nm this turbodiesel model bridges the gap that resulted from dispensing with a V8 diesel engine in the M-Class.
Running on Brabus Monoblock R 20 inch wheels, the all-wheel-drive car takes just 6.0 seconds for the sprint to 100km/h and reaches a top speed of 229km/h. A lowering module for the standard-specification air suspension is also part of the equipment as are the stainless-steel quad sport exhaust system and interior features such as scuff plates with backlit Brabus logo, velour floor mats and aluminum pedals and door-lock pins. The Brabus Power Diesel version 2 with exterior design upgrade is available for an additional 3,448 euros.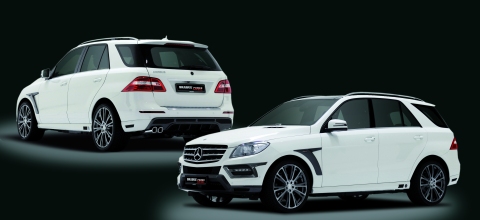 The final model is the Brabus GL 350 CDI Power Diesel. It is based on the GL 350 CDI and offers power normally reserved for a V8 engine. Thanks to the upgraded engine, it now offers 310hp and 690Nm. The top speed is 225km/h. Included in the price of 81,810 euros are the stainless-steel sport exhaust system with two tailpipes, Brabus Monoblock Q 10Jx22 king-size wheels, a ride height lowering and custom interior features such as aluminum shift paddles on the steering wheel.