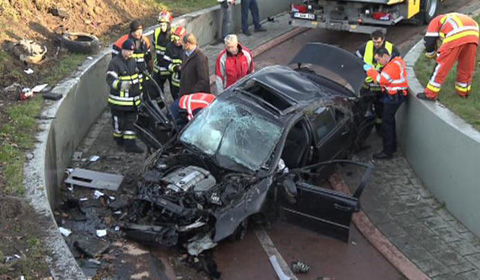 A little after six o'clock this past Sunday morning, two men aged 26 and 27 were involved in a serious car accident. The accident occurred in Belgium Bree, just across the border from Budel Dorplein. Police reports are stating the two drivers got into an altercation at a local nightclub earlier in the evening, before racing their Porsche Cayenne and an unspecified model AMG Mercedes.
The two cars reportedly collided while traveling at high speed through a roundabout, with the Porsche ending up upside-down in the ditch adjacent to the road. Although details are foggy, early reports point to a third, uninvolved Belgian driver being fatally wounded in the wreck.
Police on the scene were heard as saying on record that, the wreck occurred at speeds above 70 mph. The translation is a bit suspect here, so take these quotes with a grain of salt. Local police went on further stating; "We will have to wait for traffic analysis to come back before any final conclusions are made".
Our thoughts go out to the third driver who was killed.
Some pictures of the final crash scene: