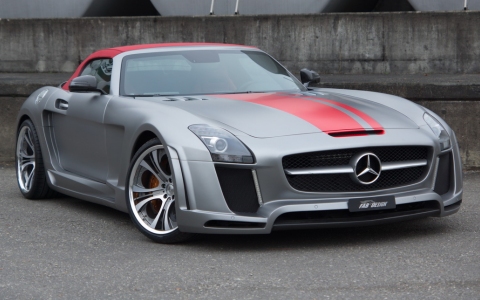 The latest model leaving the FAB Design workshop is this silver grey FAB Design Jetstream Roadster, based up on the Mercedes-Benz SLS AMG Roadster.
The body kit includes a front bumper with vertically positioned daylight running lights, widened fenders which flow seamlessly down into the sides skirts and then up again into the widened quarter panels. The rear bumper comes with bigger vents and has a diffuser that supports lip spoiler made of carbon fiber.
FAB has developed a stainless steel sports exhaust system with an integrated valve control and four classic round pipes, a pair on each side. Power output has been raised from the standard 563bhp to 607bhp together with 690Nm at 4,600rpm. The SLS Jetstream can do a sprint from standstill to 100km/h in just 3.6 seconds and hits a top speed of 325km/h.