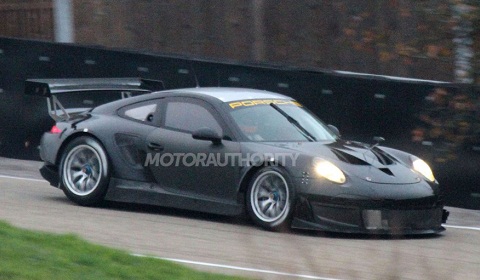 2013 is going to be a big year for the latest Porsche 911 (991) model. It will be the year when we get to see the Porsche 911 (991) Turbo and the new 911 (991) GT3. Racing fans will also be looking out for the new Porsche 991 GT3 RSR, 911 GT3 Cup and 911 GT3 R as well; and that is what we have before us today, the Porsche 991 GT3 RSR.
Porsche promised the new racing lineup in time for the 2013 motorsport season, so details and photos should be made available very soon. As we can see from the photos though, the cars are very much on their way to completion. The RSR gets ultra-wide fenders and complex aero components as well as plenty of new air intakes and a rear diffuser.
The engines probably won't change. Expect a 4.0 liter flat-six restricted to comply with the applicable racing regulations. The transmission will be a paddle-shift, sequential six-speed gearbox. European customers will get the car for 2013 seasons whereas US customers will have to wait until 2013.
Take a look at the full gallery by clicking through to Motor Authority.