Miami-based tuning house Velos Designwerks have released images of their newly tuned BMW X5 M. While opinions vary on the necessity of an M version of the X5, it remains an unquestioned performance machine. Very few other cars can offer the performance the X5 M does while still offering the amenities we've become accustomed to in an SUV. And with added go-fast bits from Velos, the car has become that much more potent.
The long list of upgrades includes, but isn't limited to purely cosmetic updates such as a tastefully pieced IND cosmetic kit in addition to an updated stance courtesy of brand new KW suspension parts. As with any performance upgrade, updated brakes are a necessity – although commonly overlooked. Velos chose a Brembo Big Brake Kit for the X5M to help stop their custom Stage 2 Velos performance tuned engine. Creating the noise is a Akrapovic downpipe mated to an exhaust of the same make.
Carbon fiber Vorsteiner front and rear carbon fiber lips were added to give the car a little extra aesthetic flair. A Valentine One radar detector has been hardwired into the car, as well.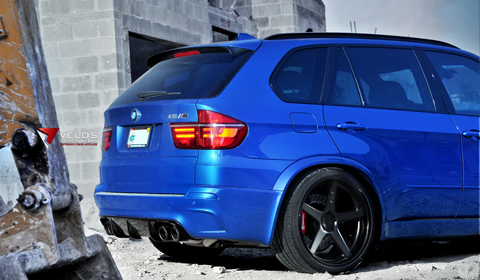 As a package, the car is magnificent. Hats off to the guys at Velos! Well done.