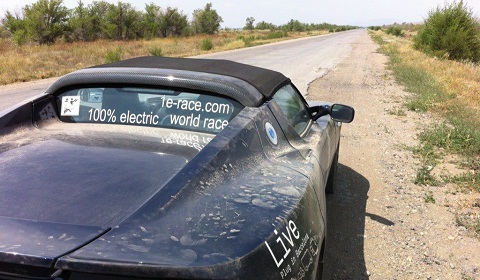 Around the world in 80 days; not the movie but Spanish-born entrepreneur Rafael de Mestre's mission to travel around the world in 80 days while driving a Tesla Roadster. His trip started off in Barcelona a few months back just after finishing a pan-European tour and has passed through Europe, the United States, China, Kazakhstan, Russia, Romania, and then back through Europe to complete the journey.
Accompanying him in this round the world odyssey were French team drivers manning a Citroën C-Zero. The trip has not been an easy one as Mestre suffered a major crash in the Tesla just 600 miles away from his destination.
He had to fly the car from Frankfurt to New York where he drove west on the I-80, passing through Omaha in Nebraska, Cheyenne in Wyoming, Salt Lake City in Utah, then down the Californian coast to Los Angeles. He said charging stations were easy to find in the US in form of an RV park where he paid $40 to charge.
He then boarded a commercial jet to Seoul, Korea where his greatest challenge was the villages and towns along his route that had no electricity. He improvise with a trunk full of charge adapters designed to fit different plug styles and if one of his pre-assembled adapters didn't work, he'd make one.
Rafael is back in Barcelona having made several records as the first man to drive around the world in an electric car, winner of the first electric car race around the world and fastest electric circumnavigation ever.