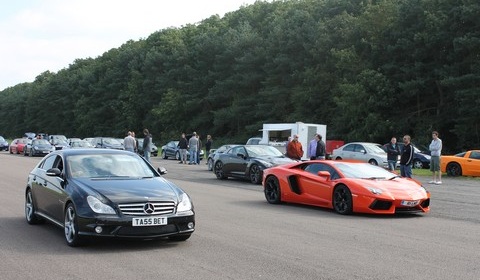 Last Saturday we attended Vmax200's latest event at Bruntingthorpe in the UK, named Afterburner. Held on a two-mile long runway in the English countryside, Vmax200 provided owners with the opertunity to push their cars to their maximum speed.
An eclectic mix of cars turned up at the British high speed event, ranging from a Lamborghini Aventador LP700-4 and McLaren MP4-12C to Audi RS4 Avants and a BMW M3 CSL. There were even two cars that had travelled all the way from the Netherlands to attend, as well as a VW Corrado running a Golf R32 engine from the Czech Republic.
The day started around 09:30 with the initial runs being done singularly to let the drivers get used to the track before being paired up for future runs.
The fastest car of the day was a Ford GT Avro Mirage 720, which reached a top speed of 206mph. It was closely followed by a Loba Motorsports tuned Porsche 911 (997) Turbo at 205mph and the Lamborghini Aventador at 202mph. The Nissan' GT-R's and Audi RS4 Avants were constintally producing runs in the high 180mph to low 190mph. While the the Czech VW Corrado with the R32 engine managed to reach the mid 160mph, while spitting flames. A Ferrari Enzo, which dropped by was not aloud to do any high speed runs as its new Tubi exhaust system broke the noise levels of the track.
For more information on future Vmax200 events contact them via their website.