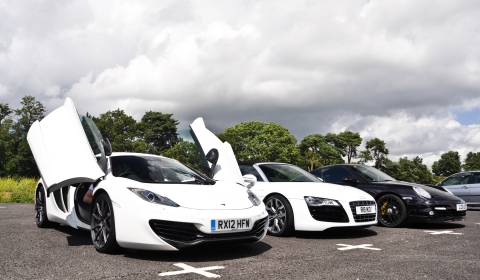 Day 1 of our Wilton Classic and Supercars 2012 experience has ended with a wonderful arrival at Lord Pembroke's Wilton estate in the south west of the United Kingdom. For those unfamiliar with the event, it includes a typical English countryside mansion as a scenery and the largest series of super- and historical cars you will find in Europe.
The event will start up tomorrow officially. The organizers granted us access to a private convoy to Wilton House, which included fifteen different supercars. Not one car was the same! The group gathered at the Mercedes-Benz World super dealership in Brooklands just south of London.
GTspirit participated in the tour using the latest supercar from McLaren, the MP4-12C. The 600hp twinturbocharged sports car is the ultimate ride for rallys due to its comfortable ride and astonishing speed potential. Other cars were the Audi R8, Bugatti Veyron, Ferrari 430 Scuderia, Lamborghini Performante, Maserati GranTurismo, and the Aston Martin Virage.
The English brand from Woking is one of the main event sponsors. Together with Bugatti they will display a total of over 15 McLaren vehicles and six different Veyrons, the BugARTi Veyron – the first Bugatti Veyron Art Car – will be one of them. Other brands on display are Koenigegg, SSC, Pagani, Porsche, Ferrari, Jaguar, Nissan, Lexus and many more. Simply any car you can think of is at Wilton tomorrow!
For those of you who would like to visit the event, make sure you head to Wilton early tomorrow. The organizers expect over 250 different sports-, super- and historical cars, all parked next to each other in front of Wilton house.
Stay tuned and follow our Facebook page for the latest from Wilton House 2012!