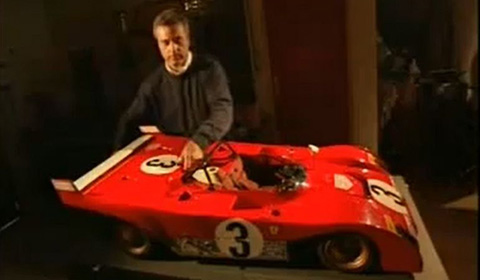 As a young boy, Pierre Scerri was impressed by the looks and sound of the Ferrari's which he saw in many races. So he wanted an Italian racing car, but because he couldn't afford one he decided to build one himself. Recreating the Ferrari 312 PB which won the Targa Florio in 1972, turned out to be quite a challenge.
He snapped some pictures of the real Ferrari 312PB, which he translated into drawings and schematics. This process alone took him three years before he could start on his own Prancing Horse. He had not only make every single part of the car himself, he had also design and make the molds for all these parts. The rubber tires, glass headlights, battery, frame, gearbox or working gauges, all were made by Scerri who spent another twelve years in building this car.
The heart of the 1:3 scale model is fuel injected, dry sump, flat 12-cylinder engine with a displacement of 100cc which puts out 8 horsepower at 10,500rpm. It even makes the same sound as the original car.
A total of over 20,000 hours were put in this impressive project by the Frenchman before it was finally completed in December 1992. The result is not only a stunning looking and exact replica of the original Ferrari 312PB, but it's also a monumental tribute to Pierre Scerri's craftsmanship and patience. Check it out in the video below.