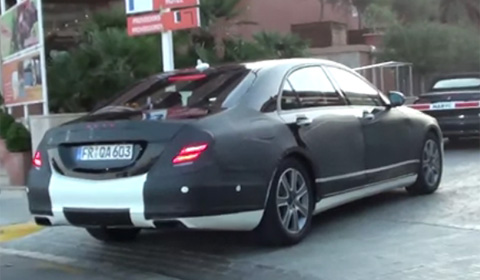 A test mule of the new Mercedes S-Class has been spotted ahead of its debut scheduled for next year. This video was made by a cyclist who stumbled upon the German luxury saloon in Spain.
The upcoming S-Class will feature some design elements derived from the conceptual F700. Just as the new SL and CLS (Shooting Brake), the next-generation S-Class will likely use a larger and more upright grille design. The video also suggests the overall appearance of the car won't change much compared to the current model.
A wide variety of engines, including a four-cylinder diesel, some V6 and V8 variants, as well as a range-topping V12, will be available. A more powerful AMG version is also in the pipeline. It is rumoured the S-Class will come with a new nine-speed automatic transmission.
The Mercedes flagship will be offered as four different models. Besides the base model, the S-Class will come as the luxurious long-wheelbase S600 Pullman model which will fill in the void left by Maybach. Mercedes will also discontinue the current CL-Class and replace it with the revived S-Class Coupé. The true highlight will be a four-door cabriolet featuring a vast folding roof, inspired by the elegant Ocean Drive Concept unveiled in 2006.
[Via eMercedesBenz]