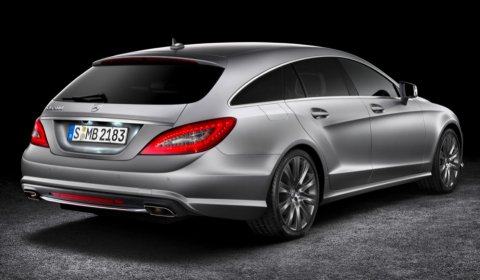 Mercedes-Benz has officially unveiled the CLS Shooting Brake, which is based on the second generation CLS coupé but features five doors and a roof which continues through to the rear. Just like the CLS, the Shooting Brake has the potential to become the role model for a new albeit niche market segment.
The CLS Shooting Brake will be available with four different engine variants in Europe – two diesel engines and two petrol engines. First there is the diesel powered CLS 250 CDI entry-level model powered by a four cylinder producing 204 horsepower and 500Nm of torque. Second, there are the two six-cylinder models: the diesel powered CLS 350 CDI producing 265 hp and the petrol powered CLS 350 which provides 306hp. The top-of-the-range model is currently the petrol powered CLS 500 with a V8 biturbo engine producing 408hp. Only the CLS 63 AMG is not available at this stage, but this high-performance model will undoubtedly follow in the future.
Features common to all engines include the 7G-tronic automatic transmission. All engines are available with either rear- or 4Matic all-wheel drive, with the exception of the CLS 250 CDI which powers the rear wheels only. This model sprints to 100km/h in 7.8 seconds and has a top speed of 235km/h. The acceleration times for the CLS 350 CDI and CLS 350 are respectively 6.6 and 6.7 seconds, the top speed of both cars is limited at 250km/h. The V8 powered CLS 500 is able to accelerate to 100km/h in 5.3 seconds, while its top speed is also limited at 250km/h.
The Shooting Brake comes with a lot of gadgets and gizmos, like the EPS (Electric Power Steering), which uses an electric motor to assist the driver of a vehicle. The electromechanical power steering also enables another innovation to be implemented – Active Park Assist. The CLS Shooting Brake is not only able to detect parking spaces, but can also park automatically. An automatically adjustable air suspension is included as well, which benefits the ride and handling even when fully loaded.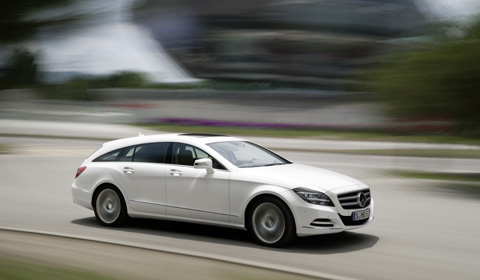 The CLS Shooting Brake offers space for a total of five people, from which the rear seats themselves provide room for three people. The car has a load volume of between 590 and 1,550 litres, when the rear seat backrests are folded down. Quite remarkable is the optional wooden luggage compartment floor made from cherry tree wood, coupled with the inlaid smoked oak and aluminium loading rails. An optional trailer coupling is also available. As for the interior, the Shooting Brake also offers five interior colours, five trim designs and also three qualities of leather to choose from.
The new 2013 Mercedes-Benz CLS Shooting Brake is scheduled to have its world debut at the 2012 Paris Auto Show this September and will hit the market somewhere in the final quarter of this year.