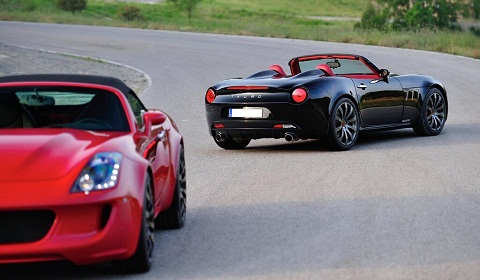 A new player has entered the sports car market, the Tauro V8 Spider manufactured in Valladolid, Spain. The Spider was officially unveiled recently, it's a two-seater roadster manufactured entirely in Spain. Just 30 will be built for the initial production run, each one tailored to the individual customer. Motorpasion relayed details of the car after attending the official presentation hosted by Spanish model Nieves Alvarez.
Two examples of the roadster have been built so far, a black and red example. We're told that it takes the Pontiac Solstice underpinnings and adds a 6.2 liter V8 LS3 E-Rod engine sourced through GM. The huge powerplant produces 440hp at 6,200rpm and 586Nm at 4,400rpm. Optional upgrades to the engine camshafts and cylinder heads boost those figures to 480hp and 644Nm of torque. Further options are tipped to release 530hp and 663Nm of torque and even as much as 650hp.
The standard gearbox is a manual six-speed close-ratio, however, the red Tauro V8 Spider is fitted with an optional General Motors-sourced automatic paddle-shift gearbox. The Tauro also gets a limited slip differential, independent suspension on both axles with double wishbones, monotube shocks and springs. The brakes are 360mm ventilated discs with six-piston calipers at the front, at the rear, disks are 335mm ventilated with four-piston calipers.
As far as design goes, the Pontiac Solstice connection is obvious. The engine is front-mounted with the driver sitting far back, almost over the rear wheels. The bodywork is bespoke and blends elements of the most popular roadsters into a small soft top package. We're told that the weight distribution is 52%-48% in favour of the front with an overall weight of just 1,200kg.
The price is expected to be around 100,000 euros. Our friends over at Autoblog.nl point out that we've already seen an American V8 packed into the tiny Solstice platform by way of the Breckland Beira V8 Roadster. That particular project folded in July 2009 without a single customer car delivered.