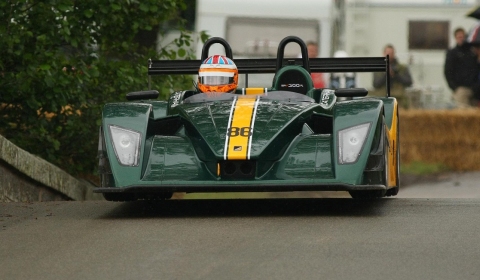 Caterham's 300bhp SP/300.R delivered the fastest lap for a car during the Cholmondeley Pageant of Power, the annual show held in the grounds of Cholmondeley castle, which we reported on yesterday.
A collection of the world's most expensive and fastest supercars, including models from Aston Martin, Bentley, Bugatti, Lamborghini and the Ariel Atom V8 500, competed head-to-head in various classes during the three-day event, which also featured fully-fledged race cars and classic Formula 1 vehicles.
The new Caterham competed against other British-built vehicles including the BAC Mono, Ariel Atom V8 500 and Radical SR3 SL, which were all vying to take the overall win and fastest lap.
Caterham's first new model in more than 15 years shattered the previous lap record of 62.68 set by Lamborghini in 2010. The new lap record for the 1.2 mile course was completed in 61.89 seconds by Caterham Drive Experience instructor, Scott Mansell.