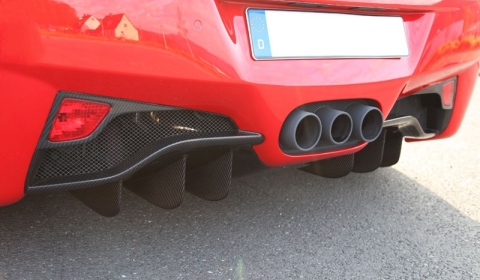 Capristo Exhaust has released their exhaust system, which will raise overall power by as much as 30hp while strongly reducing engine heat mainly by means of an improved exhaust gas routing.
The system was changed from the manifold right up to the tail pipe without noticeably changing the appearance of the car. Including the enhanced performance achieved by installing the new exhaust system, the weight-to-power ratio is now 2.19kg/hp compared to the original 2.42kg/hp. The new valve-controlled exhaust system also features a 2×200 cell catalytic converter.
The specialist also fitted a series of carbon fiber parts saving over 100kgs of weight inside the car. On the visible body, they replaced the mirrors, door ledges, rear window end plate, the two front wings, hood lock casing, filler cap, diffusor, and rear fog light casings. Parts of the engine compartment casing and the high pressure pump covers were also replaced with carbon parts. As the diffusor is made completely from carbon fiber, the entire part weighs in at only two kilograms.
The entire undercarriage of the Ferrari 458 of original plastic parts was replaced with a rugged, matt carbon look. The carbon underbody cover saves about seven kilograms while still fulfilling all the requirements of the original cover. New carbon wheel house casings for all for wheels, also in matt, are another seven kilograms lighter than the original parts.
A carbon trunk liner was fitted, which saves over six kilograms while still keeping all the functionality of the original fittings. The airbox inside the engine compartment was rebuild in carbon fiber. The new airbox also increased the volume and optimized the airflow in conjunction with changes to exhaust routing and manifold geometry.
No word on pricing or availability. Interested feel free to contact Capristo in Germany.