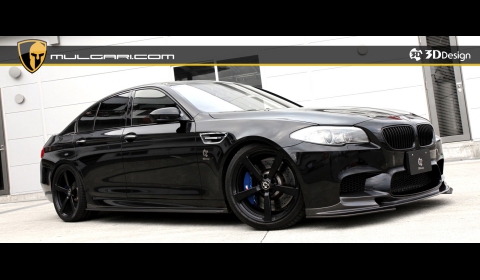 UK company Mulgari Automotive has announced their partnership with 3D Design. Signalling the new relationship, Mulgari Automotive will start the supply of the 3D Design F10M M5 aero kit.
The kit includes a front splitter set (£1,435), rear diffuser (£1,000), carbon side skirts (£1,363) and a rear spoiler (£615). A 3D Design exhaust system, air filter kit and recalibrated 3D Design engine software (£699) boosts the performance by over 15 procent.
On top of that, 3D Design's full range of suspension, aero kits and parts, interior and exterior accessories and 2 styles of 3D Design Wheels will be available. According to the Brits, the majority of parts are held in stock, so you wont have to wait weeks to get hold of your upgrades. Plus being an exclusive Japanese brand, they'll be as rare as hen's teeth.