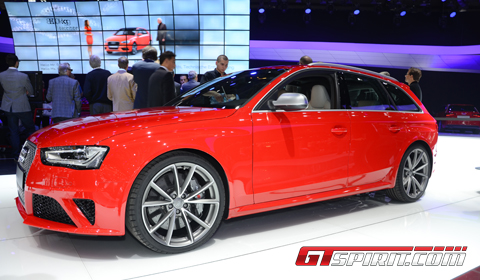 The new third generation Audi RS4 Avant will start in the UK at £54,925 OTR before adding any options, with first customer deliveries to begin in the autumn.
The Audi RS4 Avant uses the same high-revving, normally aspirated V8 engine that powers the RS5 Coupe. The 4,163cc powerplant produces 450hp at 8,250rpm for a specific output of 108.1hp per liter. Its maximum torque of 430Nm is available from 4,000 to 6,000rpm. The V8 with its red-painted cylinder head covers accelerates the RS4 Avant from zero to 100km/h in 4.7 seconds on its way to a governed top speed of 250km/h. This can be increased to 280km/h upon request.
Like every RS model from Audi, the RS4 Avant comes standard with quattro permanent all-wheel drive. The heart of this system is the crown-gear center differential. The self-locking crown-gear center differential works together with the torque vectoring system, which acts on all four wheels.
For more information on the 2013 Audi RS4 Avant check our official release.