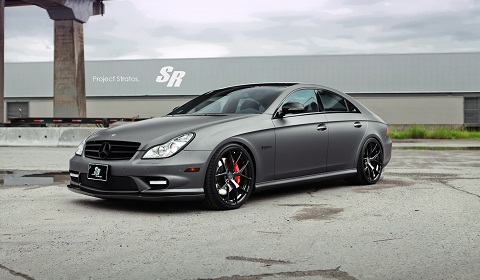 One of the latest projects to leave the SR Auto Group garage is this Mercedes-Benz CLS 63 AMG. It's the older generation W219 this time which receives a set of PUR 4OUR, a new matte grey paint job and several other features to bring the look right up to date. SR Auto Group have named it Project Stratos!
As we've already said, the car features a new matte grey paint job. This is complimented by blacked out details including the CLS badge, the Mercedes-Benz badges, the chrome window surrounds and the front radiator grille. Elsewhere, an LED DRL system has been fitted to the lower section of the front bumper to mimic the look of the present W219 CLS together with a carbon fiber front aero lip.
The wheels are PUR 4OUR monoblocks which provide a viewing platform for the brake discs with their red finish. They have a high gloss black finish to match the cars exterior.