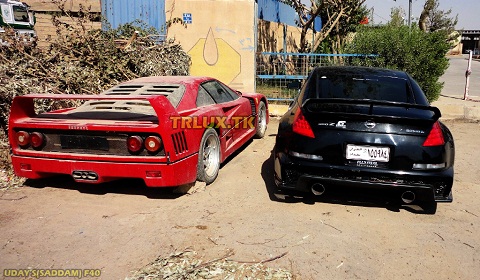 It's been almost nine years since Uday Hussein was shot and killed by US forces. Uday had amassed a car collection by the time the second Gulf War arrived, parts of which were plundered from the first Gulf War. One of the lasting remnants of his car collection is this Ferrari F40, recently spotted by Flickr user trlux.
It looks like the car was spotted in Iraq, probably in Erbil. It was sent to a garage for work to be completed but never picked up. Of course, the F40 wasn't the only car in Uday's collection. While rumours of an Iraqi McLaren F1 are most likely to be false, he did own a Lamborghini LM002, a Ferrari Testarossa and a number of Porsche models.
His collection also included at least five Excaliburs and a Plymouth Prowler. Of course, many of these cars were destroyed during the occupation or sold afterwards. We've managed to gather a small gallery of Uday Hussein's car collection for you to look at. The header picture is the abandoned Ferrari F40!