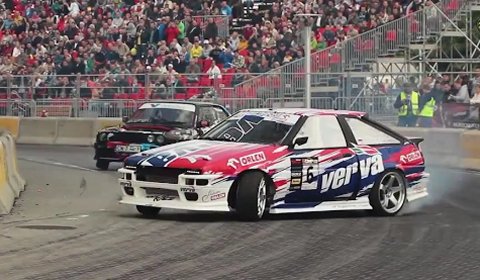 This weekend (2-3 June) the Polish Drift Championship has had the first round of the 2012 season, in the middle of the city of Plock, basically using a street track.
The location was set for Orlen Arena in Plock, the biggest sports center in the city, with the track being drawn around it and also using a closed section of road adjacent to it. This is indeed another unique Polish Drift Championship event, an event that has managed to bring in more than 15,000 fans during two days.
With the best drifters in Poland showing up for this event, some of them bringing in new cars, some of them bringing updated versions of their 2011 machines, and with a track that none of them has driven before, for sure this was going to be one exciting battle, seeing as first prize was worth about 3,000 euros.
With concrete barriers surrounding the whole layout, and clipping points set by the judges in such a manner as to challenge the skills of the drivers, things were not going to be easy for them, but they all do really like some serious challenges!
At the end of the two days these were the final results:
1st place : Jakub Przygonski – Orlen Team (Dakar winner)- Toyota Corolla AE86 with Mitsubishi Evo engine (~450HP)
2nd place : Marcin Mospinek – Valvoline PUZ Drift Team – BMW E30 with LS3 engine (~560HP)
3rd place : Wojtek Gozdziewicz – Wlodan Drift Team – BMW E36 with 6 series V8 engine (~400HP)
4th place : Piotr Wiecek – BudMat Auto RB Team – Nissan Silvia S14 with 2JZ-GTE engine (~500HP)