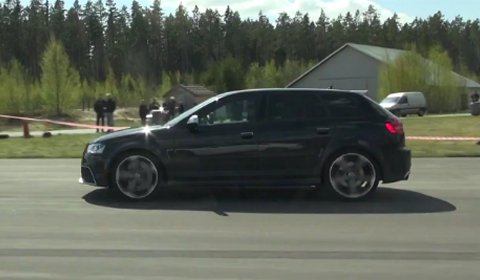 The guys over at M5Boarddotcom have put an Audi RS3 up against a facelifted Audi S5 in a drag race. The video below shows the winner of this race, but do you know which one will win without looking at the figures?
The RS3 Sportback comes with a 2.5 liter turbocharged five cylinder engine provides 340hp and 450Nm of torque. Power is transmitted to the road via a seven-speed S tronic and quattro permanent all-wheel drive. The RS3 accelerates from 0 to 100km/h in 4.6 seconds and the top speed is electronically limited to 250km/h.
The facelifted S5 Coupe in this video has a 3.0 TFSI producing 333hp. The engine is linked to the same seven-speed S tronic gearbox and four-wheel drive. The Audi S5 accelerates from 0 to 100km/h in just 4.9 seconds on its way to an electronically governed top speed of 250km/h.