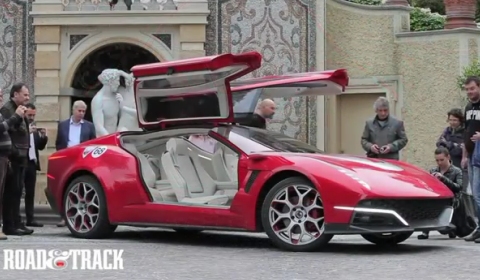 Who says you cannot take concept cars onto the road? American magazine Road & Track proved differently with their drive in the Giugiaro Brivido Concept, which was released at the Geneva Motor Show in March 2012.
Brivido in italian means thrill. The luxury four-seater sports GT is powered by a hybrid system consisting of a 3.0 liter internal combustion engine developing 360hp and an electric motor, which brings that up to a total output of 408hp.
Both engines are connected to an eight-speed automatic transmission which propels the car from 0 to 100km/h in 5.8 seconds and help it achieve a top speed of 275km/h. This is a fully functional concept and can actually do this numbers.
The fighter jet-like interior features a number of gadgets, such as an iPad integration system, an infotainment system, dhe whole dashboard is actually TFT displays with beautiful graphics, but the real party piece is the new steering column featuring two monitors on each sides of the wheel, which act as the rear view mirrors.