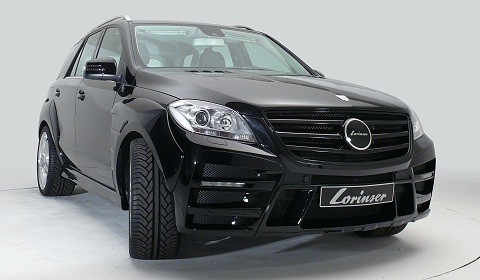 Lorinser released details of their new tuning package for the Mercedes-Benz ML Class. The package has been previewed before in the form of a sketch, Lorinser have now taken the ML from the drawing board and onto the actual car. The Lorinser Mercedes-Benz ML Class will debut at the 2012 Tuning World Bodensee this weekend.
Lorinser have fitted the Mercedes-Benz ML with a wide body kit. New front bumpers, side skirts, flared fenders and rear bumper parts make this ML Class 30 millimeters wider. Modifications to the exhaust and the engine appear to have been made, however, no information was offered other than a passing reference.
The wheels fitted to this vehicle are 10×22 inch RS9 lightweight alloy wheels. They come fitted with 295/30/22 size Yokohama tyres sitting on a suspension kit that lowers the ML Class by 40 millimeters. Lorinser developed this kit with manual adjustment for the Airmatic suspension system.
For the interior, everything from personalised floor mats to bespoke leather upholstery is possible.