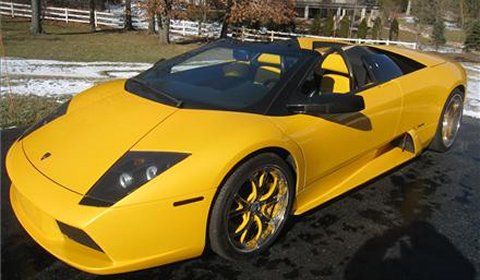 This is Yellow 2006 Lamborghini Murcielago Roadster is for sale in Palos Park, IL USA. According to the sales ad it is a rare exotic and an one of a kind roadster with a carbon fiber hard top. The top is completely removable and stores inside the trunk/bonnet.
The paint job is called Giallo Orion and it is combined with a Yellow/Black leather interior with Yellow stitching. On the technical side the owner fitted Yellow brake calipers, Yellow/Chrome stagerred original size Ashanti wheels and an aftermarket exhaust system.
Carbon fiber is used inside the engine bay, for the engine cover and the brace. The supercar also has tinted glass door windows.
For more information on the vehicle check out the sales ad. Pricing is $ 179,995 for a six-year-old Murcielago.