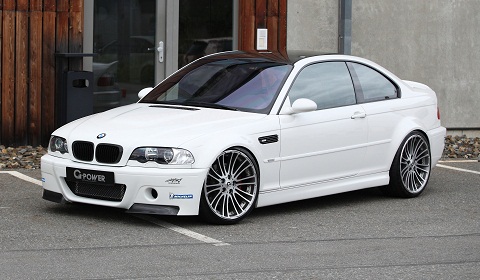 We may be waiting for the next-generation BMW M3 but that hasn't prevented G-Power from adding a bit of extra power to the previous generation E46 BMW M3. Modifications to the 3.2 liter straight-six engine raise the power levels higher than the current E92 BMW M3.
A single modification allows a 450hp figure. All G-Power have added is an ASA T1-518 centrifugal supercharger. The 450hp is produced at 7,000rpm accompanied by 460Nm of torque at 5,500rpm. These are gains of 107hp and 95Nm over the stock BMW M3. It allows a 300km/h top speed and 0-200km/h in just 14.7 seconds. The performance enhancements will set you back a total of 7,000 euros.
In terms of handling, G-Power fitted a set of Silverstone Diamond alloy wheels measuring 20 inches in diameter. These are coupled with Michelin Pilot Sport tyres measuring 245/30 ZR20 and 285/25 ZR20 front and back respectively. They cost 4,422 euros. Height adjustable coil-over suspension is available at 1,205 euros, it has nine selectable settings for the rebound.
The G-Power braking system has also been fitted. It includes a six piston setup with a 370mm disc at the front and a 342mm disc for the rear. The braking system costs 5,800 euros for the front and 3,860 euros for the rear. This car hasn't received the G-Power modifications to the muffler. If you were looking to add these, G-Power would fit four 76mm end pipes to release a small amount of extra power.