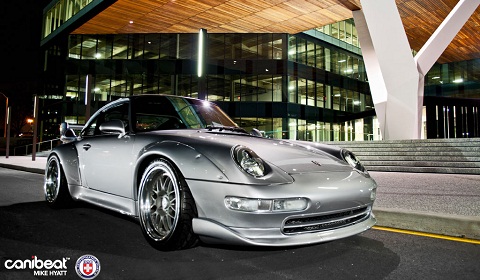 The Porsche 993 GT2 is one of our favourite classic Porsche models. It's the last of the air cooled Porsche's and a pure racer homologated for the road. It seems that AMS Autowerks loved it so much that they wanted to recreate it, HRE Wheels were drafted in to fit a set of their C20 wheels too!
To start with what HRE added, the wheels are C20's, part of HRE's Competition Series range. These rims use titanium fastenings with 6061-T6 Forged Aluminum construction. They are of course perfectly fitted to the 993 Porsche 911 measuring in at 18 inches.
As for the work carried out on the car, Canibeat's article suggests that the work was carried out on a 911 GT2 chassis, however, considering GT2's regularly trade hands for 250,000 euros plus, we doubt that. Coupled with the fact that the 993 GT2 never had a sunroof, we can say that this is a re-bodied Porsche 993, and an awesome one at that.
It has an authentic GT2 wide body kit, a carbon fiber rear spoiler and the GT2's front lip. In terms of mechanics, AMS Autowerks chose to install GT2 cams, a modified GT2 exhaust manifold, K24/18G Billet turbos, a custom dual 38mm wastegate, custom GMG style exhaust, a carbon fiber Gruppe M intake, side-mount oil coolers and a Powerhaus custom built and geared six-speed gt2 transmission.
To finish off with the suspension, the car features Ruff/Andial spec coilovers, H&R sway bars and a Bremb brake kit. Let us know what you think in the comments box below!