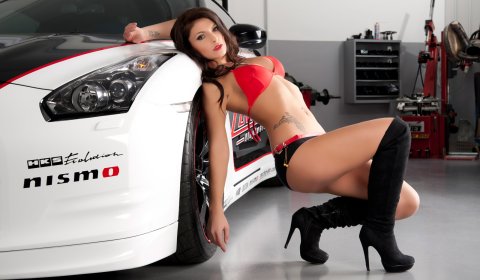 Our latest addition to the cars and girls category shows this Nissan GT-R accompanied by German Playmate and ex-Miss Tuning Silvia Hauten.
German company Mcchip-dkr from Mechernich/Obergartzem and the wrapping specialists of CoverEFX from Erftstadt developed a package for the supercar providing a whopping 596 horsepower and a maximum torque of 751Nm. The achieved the upgrade using a power-optimized software adaptation as well as the installation of a sports exhaust system.
The engine power can be reduced with a push of the button on the steering wheel for routine operation as well as for reduction to the level of serially produced standard vehicles, which should be more than sufficient for the routine drive to the supermarket.
CoverEFX tailored a racing-style film-coating to match the GT-R. A foil of the CFC 400 series of the colors Cardinal Red, Raven Black and Pina Colada White was applied. Lowering springs from the company H&R reduce the ground clearance of Godzilla by about 30mm.