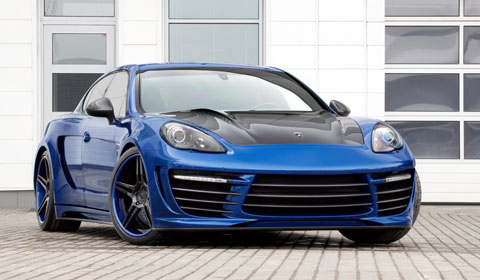 Thursday will see the start of Top Marques Monaco 2012, we will of course be there to cover the whole event. Top Car will take part in this years event with two vehicles, the first of which is the Top Car Porsche Panamera Stingray GTR. The Panamera Stingray GTR is essentially a rebodied Porsche Panamera.
The updates can be applied to any variant of Panamera. This is car number seven which will be on display at the Monaco show in a blue and carbon black colour scheme. It consists of a front and rear bumper set, carbon fiber bonnet, front and rear fender extenders, front and rear door panels and a set of side skirts. Each part is constructed from high-quality carbon fiber and kevlar.
The parts together give a wider appearance alongside a dramatic new look. Inside, Top Car fitted a new interior with carbon fiber accents fitted alongside Nappa leather. An outstanding finishing touch for the seventh car of a limited 25 car run.
Prices for the complete conversion are set at € 47,765 for the carbon fiber parts and € 41,315 without carbon parts. A steep price when you consider having to add the full purchase price of a Porsche Panamera to the mix, however, this is one of the better looking packages on the market and the attention to detail looks superb to our eyes.
Each Top Car Porsche Panamera Stringray GTR will be constructed to the individual customers own specific taste. Performance upgrades can be offered by the Russian tuner, however, they will be completed externally. For the Porsche Panamera Turbo, Top Car offer a 700hp upgrade. Their partnership with ADV.1 Wheels allows you to specify a set of wheels from their range for your new Panamera Stingray GTR.