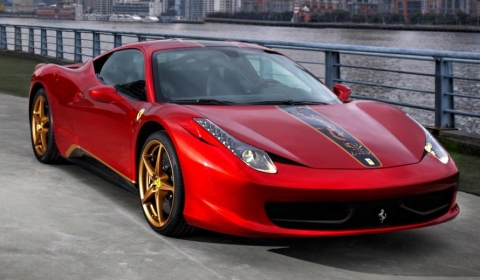 This year marks the 20th anniversary for Ferrari in China since the first Ferrari, a 348 TS, was ordered in Beijing. To celebrate this milestone, Ferari introductes a 458 Italia special edition of only twenty cars dedicated exclusively to the China market.
The car's livery is characterised by unique Chinese elements and is finished in a brand new colour called Marco Polo Red specially developed for this exclusive car which will be presented at the inauguration of the Ferrari Exhibition at the Shanghai Expo Park's Italian Center. The inspiration behind the livery came from the longma theme which is an old Chinese idiom which means "the vigor and spirit of the legendary dragon-horse".
The most eye-catching element of the car's exterior is the golden dragon on the front bonnet, which is offset by gold and black livery stripes symbolising a racing track. The image of the soaring dragon and the prancing horse on the front bonnet are the finishing touch. A gold finish to the rims and the aeroelastic winglets complements the exterior package.
The interior features gold embroidery on the car's head rests, while the engine start button on each of the twenty cars is inscribed with the simplified Chinese characters for 'start', and a 20th Anniversary Special Edition plaque is set into the dash.
Ferrari will also inaugurate its first ever permanent brand exhibition outside of Maranello at the Italia Center of Shanghai World Expo Park. Covering 900 square meters the Ferrari Exhibition will last for three years and will feature some of the best collections from the Maranello Museum divided into five topics, including Ferrari in China, Green Technology, Product, Design and Racing. Along with current and past Ferrari models, visitors will gain first-hand experience with a rich selection of images and videos made especially for this exhibition.