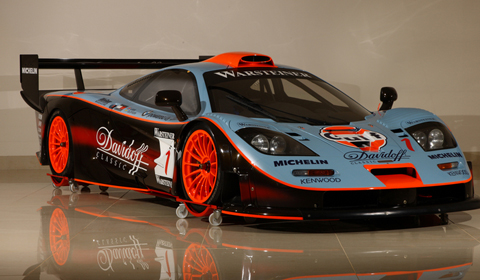 A rare McLaren F1 GTR Longtail will be auctioned. Back in the 1990s, the McLaren F1 was the pinnacle of what a supercar could be. The iconic British driving machine was once the fastest road car in the world. Nowadays the F1 is among wealthy collectors one of the most sought after cars in the word.
Auction house Bonhams will offer a McLaren F1 GTR Longtail at its Pebble Beach auction. This McLaren was originally built as chassis #27R, but was damaged in transport. It was rebuilt as #28R for GTC Competition as spare car before ending up in the 1997 FIA GT season.
The car is also the last of that final year's batch of only ten highly developed 'Longtail' cars which were the ultimate development of McLaren's entire Le Mans-winning F1 GTR family. The Longtails featured a longer nose and tail in order to reduce drag and to gain as much aerodynamic downforce as possible.
The Gulf Team Davidoff McLaren is finished in the famous pale-blue/orange Gulf livery, similar to other epic cars like the Ford GT40 and Porsche 917K. The McLaren F1 GTR was driven by Andrew Gilbert-Scott, Geoff Lees, Anders Olofsson and John Neilsen and entered races at the Nürburgring, Spa-Francorchamps, Austria's A1-Ring, Donington Park, Mugello, Sebring and Laguna Seca.
One of the most epic cars ever made in one of the most legendary liveries ‒ an interesting combination that surely will appeal potential bidders. The McLaren could be regarded as a great investment in an era of economic doubt. One year ago the same car was offered for € 3,000,000 ($ 3,990,000). It will be interesting to see how much the Longtail will fetch this summer.
The Gulf McLaren F1 GTR Longtail will auctioned at the Pebble Beach auction which is scheduled for Thursday the 16th of August and Friday the 17th, at Quail Lodge in Carmel Valley, California.