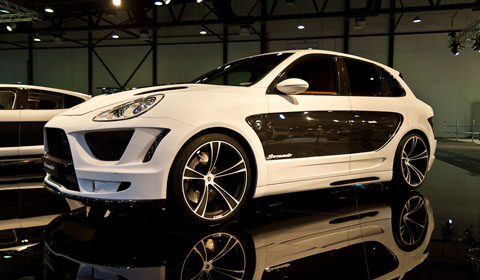 Gemballa just revealed to GTspirit what they will present five cars at the 2012 Geneva Motor Show including three world premieres. Probably the most anticipated tuning cars at this years Geneva Auto Salon are the McLaren MP4-12C and the Porsche 911 (991) Carrera (S). Gemballa brings takes on both these cars to Geneva. We made an overview of what cars they will bring and what has been done to the cars below.
Gemballa presents three world premieres and two highlights:
World premiere #1: McLaren MP4-12C. The lessons learned from decades of motorsport have been distilled into a state-of-the art super sports car, and Gemballa extends the cars lightweight construction philosophy with bespoke carbon fiber components and ultra-light forged wheels (front axle 20 inch, rear axle 21 inch).
World premiere #2: The 991 is a 911 right to the core, and Gemballa continues the success story of this living legend with a stylish carbon fiber aerodynamic kit comprising front and rear spoilers and side skirts. A unique six-pipe exhaust system, and 21 inch ultra-light forged alloy wheels complete the package.
World premiere #3: The second stage of the Gemballa tuning programme for the Cayenne is a modular aerodynamic kit. The front spoiler, side skirts and rear spoiler and, all made from carbon fiber, can be purchased in stages. Add a set of lightweight forged 22 inch wheels and you have a distinctive and practical car.
Model highlight – 1: The Gemballa Mistrale features 721hp, an extravagant design, state-of-the-art technology, and a plush but sporting interior. All its major external body components are made from carbon fiber, and ultra-light 22 inch forged alloy wheels complete the transformation.
Model highlight – 2: The 2.05m wide Gemballa Tornado makes a bold statement, backed up by 721hp. Featuring light but immensely strong carbon fiber bodywork, the Tornado also showcases the special braking system developed in conjunction with Brembo.