AMG is working hard on establishing itself as a sports cars manufacturer. According to German magazine Auto Bild, the high performance subsidiary of Mercedes will unveil the forthcoming four years seventeen new models and variants.
The most noticeable model will be the SLC ‒ internally referred to as R 190 ‒ which is scheduled to hit the showrooms in 2014 as coupe. The roadster variant of the Mercedes SLC will follow 18 months later. The SLC will be powered by a twin-turbo V8 which produces 550hp and 700Nm. Auto Bild estimates the pricetag will be in the range of € 115,000 – 150,000, which puts the 'Baby SLS' in a similar price category as the Porsche 911.
To rival the sports cars from the other Stuttgart-based manufacturer, Mercedes and AMG are working on lightweight aluminium chassis and a new generation of engines. Mercedes plans to reduce the number of platforms used by sharing platforms and components across all segments. In the future there will be only thee kind of platforms, one for rear wheel drive cars, one for compact front wheel drive cars and one for SUVs.
As for the engines, AMG is currently developing a 2.0 liter four cylinder with an output of 340 horsepower for the A-/CLC-/GLC-class. A more powerful 4.0 liter V8 is also planned, but Auto Bild has not provided any details about this longitudinally mounted engine. Furthermore a six-in-line is rumored for 2016.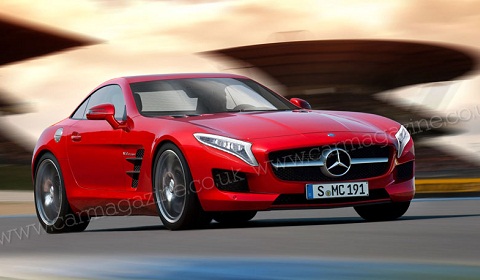 Production of the Mercedes SLS AMG is guaranteed to at least 2014, but some information regarding its potential successor has emerged. This car with the internal designation C 198 will be an evolution in terms of design and engineering. The sports car will feature much more carbon than the current model. The engine will be 6.2 liter V8 which provides 650 horsepower. Besides the increase in power, the next-generation SLS will see a decrease in weight. Thanks to the extensive use of weight saving materials the kerb weight is targeted at 1,350kg ‒ a saving of 270kg compared to the 1,620 of the current SLS.
AMG is planning to release a roadster and two coupes variants of the modern day Gullwing, including a lightweight and more powerful Black Series SLS. This car is said to be equipped with a nine-speed gearbox and adaptive aerodynamics. But perhaps we should await a Black Series variant of the current SLS AMG before jumping to conclusions about its possible successor.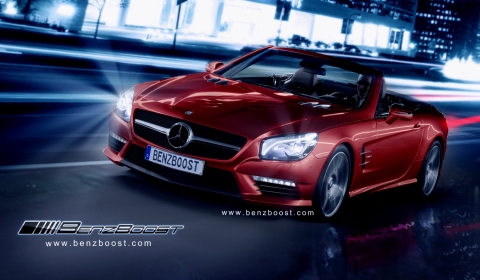 The new Mercedes SL was unveiled last December and will hit the markets this April, and an AMG-variant is planned as well. Just as before there will be two engine variants ‒ the V8 powered SL 63 AMG with an output of 571hp and the V12 powered SL 65 AMG with 625hp. A hybrid version of the SL is planned for 2013, but at this moment there is no word about a new SL Black Series.
But there are even more new AMG models in the pipeline. The new flagship of the Mercedes fleet, the fifth generation S-Class will make its debut in 2013. This model will also feature AMG variants. A V12-powered G-Class is about to be unveiled as well. So, the coming years will be exciting for AMG fans!