Coming right down to business: we had our first drive in the brand new 2012 BMW F10M M5 and it is really heavy! Where the first M5, in 1984, already weight around 1,550 kilos, this new M5 is 400 kilos heavier. It doesn't only feel heavy when you're driving it, but when you see it going around a track it also looks heavy.
But I think that's okay, because I have nothing else to complain about. I love this car! A true BMW M5. It does everything you want from a car. I mean, put your kids, dog, wife and all their crap in the new M5 and you'll still be able to give your neighbor Porsche-driver a bad weekend.
And that is exactly what you want an M5 to do. Go crazy on a racetrack and then cruise to your holiday destination doing just 9.9 liters per 100km. Burn the twenety-year-old in his father's Aston DBS and then go to your business appointment.
Anyway, the story behind all this! It started with a two hour flight to Sevilla, Spain. After checking in at the hotel, the next thing on the programme was a fabulous Gala Dinner. Of course the main subject at the table was cars. Especially our expectations of the new 560hp BMW 5-Series.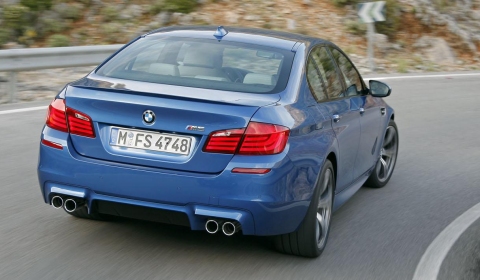 At 9:30 PM we finally got a chance to see the new M5 in real life. During the official presentation a blue example drove into the room and the marketing people and engineers of BMW's M division told their story. To end the evening we could take a look at the car and test everything. Something I like to do! I mean, it doesn't only have to drive like an M-Division product, but also feel like a BMW.
After a very relaxing night I woke up just before my alarm clock, the way I like it. After breakfast, a dozen BMW M5's where waiting outside the hotel. I quickly got in and changed the seating position. Time to go! A BMW X6 M led the pack, driving through what I think is one of the most beautiful parts of Spain. Entering the first curves and bends you try to get a good feel for the car and slowly push the accelerator, breaks, gears and so on. You quickly find out that this is a BMW, it gives you confidence. You also notice that this isn't your regular 5-Series. I drove the 535i and 550i. The M5 looks like them from inside and out, but it is such a different experience behind the wheel. I can't explain why, it's not only because of the power, it just doesn't feel like a 5-Series.
After a three hour drive and a coffee-break in between we arrived at the Ascari Race Resort in Ronda. A racetrack in the middle of nowhere. We started off with a tour of the resort. It really is jaw-dropping-beautiful, I have never ever seen something like it before. Pure heaven on earth! The guy just build it! It's a track with the most beautiful corners, inspired by tracks across the world. A two story parking garage equipped with the best tools, the best mechanics and the best cars. A hotel with the most luxurious rooms, surrounded by palm-trees, swimming pools, the greenest grass, relaxing areas, the whole nine yards!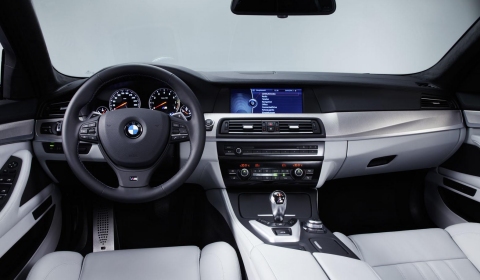 "So what's next?!", you're thinking. Well, ten M5's, four M3's and two 1M's waiting to burn some rubber! I started off in the 1M, a car I "know", but having never driven around the track before it was difficult to set a quick pace. I asked one of BMW's test engineers to accompany me. With the instructor in the passenger seat telling me exactly what to do, it didn't take very long before the first millimeters of rubber became one with the track. After just four laps we had to go into the pits for new rear-tires. A grey M3 sedan also drove into the pit lane for new brake pads. After ten minutes both cars were ready to go out again. We switched cars and drove off. The M3, in my opinion, is still the king of BMW's M-division. I know this car pretty well, so I knew exactly what to expect. After a few laps I had a little "moment", I mean, astonishing cars, incredible track and beautiful weather. What more does a petrol head want?!
Anyhow, after a few laps the M5 was next. I decided the best way to know what this car is capable of is to ask one of BMW's "fahrer training"-guys to show me. I got into the passenger seat. While talking about the car we drove out of the pitlane. I thought he maybe had to warm up, so I pretty much crapped my pants when he floored the throttle and went full opposite lock trough the first corner! This guy made it look so easy! When I found out that this was somewhere close to his 1,000th lap since coming out here I could understand why it looked so easy.
I asked if I could have a go in this car, since the rest of the M5's couldn't turn off the ESP and traction control (very smart BMW!). He said "sorry". I thanked him for the cool experience and got out of the car. A few minutes later he came to me and whispered "14:00 hours, pitlane, see you there". During the break at 14:00 hours everybody was relaxing, having a drink and talking. Meanwhile I ran to the pitlane. Nobody on the track and the pitlane looked empty. A white F10 BMW M5 drove out of the pitbox. The BMW-guy got out of the drivers-seat and into the passenger-seat. I quickly got in and drove off.
Video below was made by Totalcar and gives a good idea of my experience.
Now it was my time to scare the sh*t out of him! He talked about the basics of drifting, thinking I'd never done it before. Driving an E60 M5 and Z4M myself, this absolutely wasn't my first time. After a few corners he (luckily) concluded that I've done this before. I have to say, I think it helped that the rear tires were far gone. What surprised me most was that to keep the M5 in a drift you didn't need many revs, something you do need with the E60. According to the BMW-guy this is because of the limited slip diff with 100 percent maximum locking, called "Active M-Differential with torque vectoring". It basically makes both rear wheels spin at exactly the same speed, making it easier to handle drifting through corners.
After two laps it was time to go. I thanked the BMW-guy for making a dream come true, an empty track with beautiful corners and a fast road car with tires I don't have to pay for, while having the most fun you can have on four wheels! What an amazing experience! I ran back to the lounge, acting as if nothing happened. It wasn't long before we boarded the helicopters to go back to the hotel. Four hours later I parked the E60 in the garage.
I've never had an experience of two days feeling like one hour. Time had gone so fast! They say time flies when you're having fun. Well, it's true!