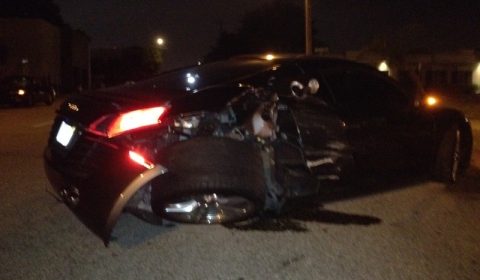 Luxury4Play member SSIIICK reportes that his Audi R8 was totaled this weekend. He was on his way together with his girlfriend to pickup some dinner and was just cruising down the road when a girl driving a truck came barreling through the intersection, running a stop sign and slammed into his Audi R8 V8.
He doesn't know what the hell she was thinking. He personally guessed some people can't seem to see the obnoxiously large stop sign, and there were even two, one on each side. The pictures below show the aftermath. Luckily, both are fine and walked away from the accident hungry without any food.
We wish them both all the best searching a new sports car, because this R8 is destroyed.