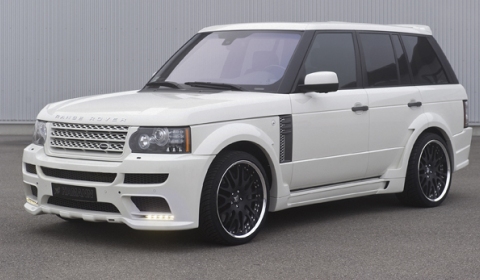 After the presentation of the tuning program for the Porsche Panamera, Hamann presents a package for the Range Rover V8 Supercharged 5.0i Premium. The tuning program features a new bodywork, performance, and a new interior program.
The German tuner from Laupheim boosted the Range Rover V8 engine up to about 530hp and a torque of 660Nm at 2,600rpm. This increase in performance is made possible by using a new exhaust system, complete with X-manifold, center pipe, and perfected engine electronics. The Range Rover accelerates from a stand-still to highway speed in just 6.0 seconds, reaching a top speed of up to 227km/h.
Using a new front spoiler with larger cooling air inlets and integrated LED daytime running lights make the Hamann tuned SUV a lot brawnier. This impression is reinforced by the wider wings, forming a single unit with the newly designed side skirts, adding about 60mm more width to the vehicle in front and 70mm at the rear. At the back, a newly designed skirt holds the stainless steel exhaust pipes from the sports exhaust system. Upon request, a carbon roof spoiler is available.
Ultralightweight, three-part forged wheels are availabl. The Design Edition Race Anodized is equipped with tires, size 295/35R22, which guarantee powerful grip.
The customer can have almost infinite number of combinations of leather, Alcantara, wood, carbon or aluminium trim, to put together his own personal interior. Upon request, Hamann can produce anything the customer's heart desires.