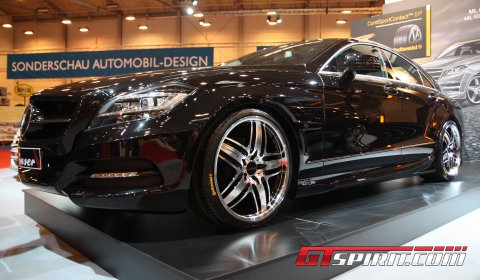 Lorinser is showcasing their latest programs on the Essen Motor Show 2011. Two models are placed in the spotlights; the Infiniti FX30d and 2012 Mercedes-Benz CLS tuning programs.
We focussed ourselves on the CLS program. The complete kit offers lift-reducing aerodynamic components, an enhanced performance, stainless steel exhaust systems with a sporty sound, 19 and 20 inch alloy rims and interior modifications. The body kit from Lorinser includes a front spoiler bumper, wider wings, rear skirt, rear lip and roof spoiler. The Lorinser side skirts form the optical link between the front and rear. The tailor-made body kit is mounted on the serial attachment points.
Lorinser offers various wheel designs and sizes. The RS8 is a 19 inch wheel with turbine look. The RS8 tyre is also available in a 20 inch design. Additional the tuner offers an one-piece Lorinser alloy wheel, known as the RS9. The rim with five slotted, silver triple spokes is available in both 19 and 20-inch dimensions. The final rim available for the CLS is the RSK6 multi-part alloy rim with five spokes and stainless steel connecting bolts.
On the inside Lorinser offers aluminium pedals and door sills with an illuminated Lorinser logo. On request, Lorinser offers anything that makes customer request from a personalised set of foot mats to a complete leather interior.
Official pictures 2012 Mercedes-Benz CLS by Lorinser