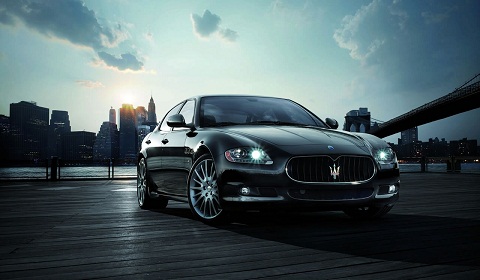 Maserati will launch three new models in quick succession. Fiat Chief Executive, Sergio Marchionne, gave an interview following Mondays CBI business conference in London which confirmed that three Maserati models will be launched within a very short time frame. Marchionne was of course referring to the expected Quattroporte successor, a smaller four-door Maserati and the Kubang SUV.
Maserati will be using the Chrysler 300 platform for the smaller four-door model, albeit with a revised suspension setup and a Maserati-specific Ferrari engine. The saloon will be built in Italy. Marchionne gave a hint during the interview; "there is a site in Modena that makes the Quattroporte, there's some debate what happens to that plant after Quattroporte. There is sufficient commonality in what we're doing between the smaller car and the bigger one that we can do what we want."
To us this suggests that the smaller model will be built in the Modena plant alongside the new Quattroporte. However, Machionne was very clear to emphasise that the Kubang will be built at the Jeep facility in the US. This makes sense as the Kubang will share the Grand Cherokee underpinnings with engines, suspension, styling and cabin furniture created by Maserati and fitted to the Jeep skeleton.
When pressed to reveal the possible order of releases, Machionne said, "We are being a bit secretive over what you get first because it has implications for the industrial footprint of the group." Despite this Car magazine, our source, suggests that the Maserati Quattroporte successor will be unveiled first, followed by the Kubang SUV and then the smaller Maserati Saloon model.