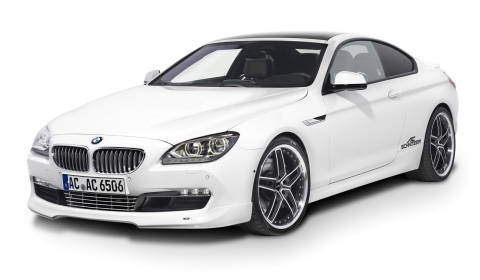 German tuner AC Schnitzer has officially revealed their program for the BMW 650i Coupe. The release follows our pictures of a black ACS6 Coupe made at the SEMA 2011 carshow displayed at the stand of the US importer for AC Schnitzer.
The program for the 650i Coupe is quite similar to the program we drove some months ago fitted to the 650i Convertible. The performance upgrade features an increase of power from 407 to 540hp. The eight-cylinder engine races from 0 to 100km/h in just 4.3 seconds. The ECU upgrade is complemented by the AC Schnitzer engine and engine bay styling, and our favorite twin sports rear silencer including chromed "Sport Trim" tailpipes right and left.
Additional technical parts available are an eight-piston high performance brake system for the front, and wide variety of wheel set; Type IV in BiColor or silver, Type V Lightweight Forged alloys in BiColor, or Type VIII in BiColor or as Racing Forged rims in BiColor.
The exterior trim received a front spoiler, a chromed front grille and chrome strips which can be fitted either as a set or individually. AC Schnitzer also offers a rear spoiler, an rear skirt insert and a loading edge protector film.
On the inside the usual parts, such as the sports airbag steering wheel, the AC Schnitzer "Black Line" aluminium cover for the i-Drive System Controller, the AC Schnitzer aluminium foot rest and pedals, and boot and foot mats in velours.