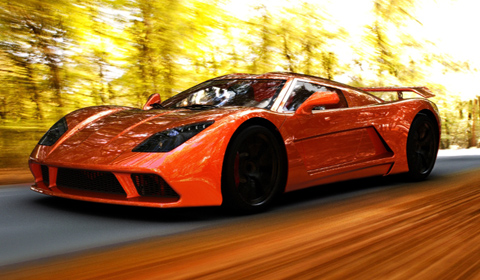 French start-up company, Genty will build a bespoke V8 engine to power their Akylone supercar. MotorAuthority have revealed that the twin-turbocharged unit will be a 4.8 liter 90-degree V8 with a four valve per cylinder, DOHC design. The news is unexpected as many supercar manufacturers choose to use and existing platform, usually a Mercedes AMG, BMW or US unit, to reduce the development time and cost.
Four fundamental characteristics form the basic goals of the project. High performance, reliability, extreme power and lightness. To do this, the V8 will feature direct fuel injection, a stroke-to-bore ratio of less than 1 and a compression ration of 9:1. This should allow for an 8,000rpm red line, and peak power of 1,000 horsepower and 1,270Nm of torque thanks to the twin-turbochargers.
Dry sump lubrication and a sequential seven-speed transmission will also be key features of the mid-engined, rear wheel drive supercar. The engine's development will be directed by Reinhard Könneker, who has a wealth of knowledge after stints at Porsche, Mercedes, BMW and Audi.
Only 15 cars will be produced in the French automakers factory at St Pourcain sur Sioule, France. We'd expect to see the working production vehicle at the 2012 Paris Motor Show. We're told that the Akylone will reach 100km/h in 2,7 seconds, while the 200km/h barrier will be hit in 7,2 seconds and the 300km/h will be reached within 14 seconds.