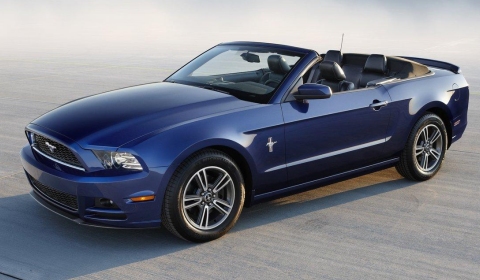 The 2013 Ford Mustang GT has officially been revealed ahead of the Los Angeles Motor Show 2011 starting tomorrow. The new model Mustang, which goes on sale in spring 2012, offers a more aggressive design with a more prominent grille. A different splitter adds to that appearance. Functional heat extractors on the hood of the GT were placed and designed to help move hot air out of the engine compartment and cool the engine.
Rocker panels running along the car are now body-color. The rear has been updated with a high-gloss black panel that connects the taillamps. Keeping the sequential turn signal Mustang is known for, the taillamps also deliver a smoked appearance that matches the front. Also new for Mustang design are standard HID headlamps on both V6 and GT cars. Two individual LED bars accentuating the front headlamps and three LED ropes forming the three-bar rear lights.
The new Mustang offers a renewed wheel lineup, ranging from the standard 17 inch wheels for V6 up to 19 inch optional wheels on the GT and V6 Performance Package. There are two different finishes on the 17 inch wheel – machined-aluminum and painted. Three optional V6 wheels include an 18 inch polished aluminum set, an updated 18 inch painted aluminum and a 19 inch painted wheel design, with a new theme for the V6 Performance Package. The standard 18 inch painted aluminum wheel on both GT and premium GT is an evolution of the five-spoke design. The 19 inch optional GT wheel comes with a gloss-black finish with a machined face.
The new car also offers mirrors with pony projection light, which casts the image of Mustang's famous pony emblem on the ground when the unlock button is activated. New colors – Deep Impact Blue and Gotta Have It Green – join the existing sporty colors for 2013.
Also new on V6 and GT are optional leather-trimmed or cloth Recaro seats that are currently available on the Shelby GT500 and Boss 302. The seats also come complete with integrated head restraints with ample room for drivers and passengers wearing helmets when at the track. Openings on the seatback are included for customers looking to create performance setups for their car on track days.
Drivers of automatic-equipped Mustangs will be able to shift their own gears with new SelectShift AutomaticTM transmission, now a standard feature. And industry-first technology allows drivers to monitor their own acceleration, g force and braking on the track with new 4.2 inch LCD screen showing Track Apps.
All other technical details and options will stay the same with respect to the previous version. Stay tuned for the first live pictures from the US car show.