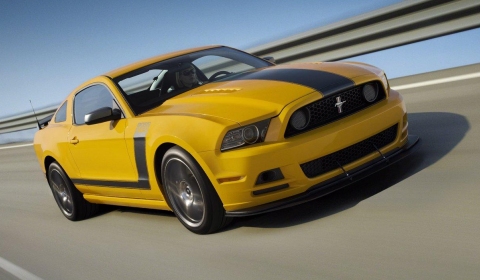 The new 2013 Ford Mustang Boss 302 has been released ahead of the Los Angeles Motor Show 2011 starting tomorrow. The 2013 Boss 302 and Boss Laguna Seca models feature new School Bus Yellow paint, honoring Parnelli Jones' 1970 Trans-Am championship car prepared by Bud Moore.
The reflective stripes on Boss come to life when lights hit them, similar to how they did in 1970 on the Mustang Boss 302. The new stripe follows the classic hockey stick motif by going over the fender and extending down the body panel.
Boss Laguna Seca has new Sterling Gray accents and will be available in vintage School Bus Yellow and black paint offerings, complemented by hockey stick stripes and gray interior rear cross-brace. Gray also sets off the front grille, mirror caps and rear pedestal spoiler, while Laguna Seca rear badging and two-tone gray and silver wheels round out the exterior accents. Unlike the previous model, the roof will not feature colored accents.
Similar to the redesigned base Mustang lineup, the front end offers a different design with a more prominent grille. A more powerful splitter and functional hood extractors add to that look. Boss Mustang has new signature lighting, with standard HID headlamps and LED-surround taillamps.
The 2013 Boss also offers a functional design feature in the grille with removable covers where fog lamps would be. The covers can be easily removed with a screwdriver for additional cooling. Additionally, the rear end features a high-gloss black panel that connects the taillamps. The taillamps deliver a smoked appearance that matches up with the sinister look up front.
The new Mustang Boss includes Ford SYNC, the voice-activated in-car connectivity system, as a standard feature.