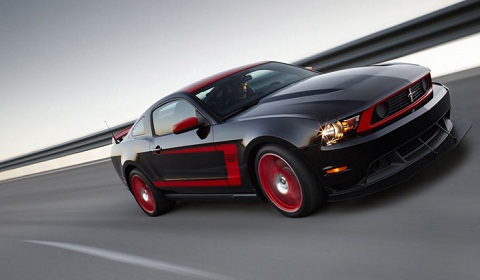 The Boss Mustang is back! Today it was announced that Ford will offer a Boss 302 Mustang once again. The original model is now one of the most collectible Mustang's despite only being offered in 1969 and 1970. The new car is based on the same basic principle as the old one, racing heritage in a road-legal package. Whereas the original was based on a Trans-am car, the new car gets many of its parts from the 2009 Mustang Boss 302R.
Ford chose Laguna Seca to unveil the car, it features a 5.0 liter V8, upgraded to 440hp – an increase of 28hp over the standard GT. A new intake and revised camshafts coupled with a revised ECU make up the power gains. Torque is actually down 10lb-ft from the GT version, now only 380lb-ft. The Boss 302 is the first non-SVT model to pull more than 1g of lateral acceleration. A quad exhaust system offers a better soundtrack.
Inside, there is a new Boss steering wheel covered in Alcantara suede, a new instrument panel, a cue-ball shifter and an optional Recaro seat set. Ford have added black 19 inch alloy racing wheels wrapped in Pirelli PZero rubber to the Boss.
A unique fascia, grille and a lower front splitter cut drag and increase cooling. The distinctive side stripe matches the roof, and the body comes in shades of orange, blue, white, yellow and racing red.
Immediately, a limited number of Boss 302 Laguna Seca models will become available to owners looking for a more track biased car. These cars will share the most with the Mustang Boss 302R; there will be no rear seats, a race-ready suspension and various new aerodynamics parts.