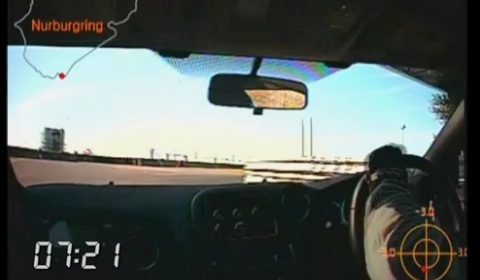 The very first footage showing the 2013 Nissan R35 GT-R setting a lap time at the Nurburgring Nordschleife has been revealed. After the timed lap was released on YouTube Godzilla positioned itself on number ten in the Nordschleife lap times lists on Wikipedia and Fastestlaps.com.
According to information on The Thruth About Cars, the GT-R ran around the Ring on a set of Dunlop Zero Pressure runflats. The video below shows a GT-R cockpit and a timer, which dutifully stops at 7:21 while the video fades to black. Like any other video or time set, the fractional seconds are missing, which is rather interesting.
If we all believe the video, then the new GT-R shaved off a few seconds from the 7:24:22 achieved in October 2010, but remained shy of its self-declared goal of "less than 7 minutes 20 seconds". Not to mention that the unofficial record stands at 6:48.
A check of the Nissan press releases found no official statement. According to the guys over at The Thruth About Cars, no record attempt was done. Nissan spokesman Nobukazu Tanaka replied to the news blog:
In October there have been GT-R test runs on the Nürburgring, as part of the many tests for the final trial of the 2012 model year GT-R. We have no official announcement of a time trial or the results of the test run at the Nürburgring Nordschleife. Video scenes which had been taken on the circuit had been broadcasted through consumer generated media.
For the time being it will be uncertain what the video holds eaxctly, an official timed run or just a test lap. For us it is nothing more than the first footage of the new 2013 GT-R on the Nurburgring accompanied by a lap time currently stored in the lists of lap times known on the web.
In the meantime we have to wait until Nissan releases an official video showing the new MkIII GT-R lapping the 'Green Hell' and fulfilling the statement that it can reach times between 7:16.22 and 7:14.22.