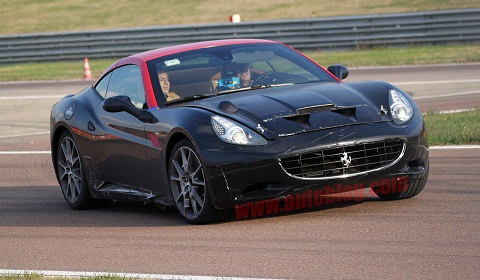 Spy photographers have managed to snap a second Ferrari model out testing in Italy at the Fiorano. This time, the disguised model is a California, out testing alongside the 599 successor we reported on yesterday. Sources suggest that this Ferrari California is fitted with a turbocharger and could be hiding a series of performance enhancements and weight reductions.
The most notable difference between the car in these pictures and the standard Ferrari California are the NACA ducts fitted to the front nose. These ducts have historic significance, having been a distinguishing feature of the iconic Ferrari 250 GTO and the Ferrari F40. However, we don't suspect that Ferrari will use the GTO moniker for this model. Other visible differences include a bulge on the passenger side of the vehicle and a mis-fitting bonnet.
Rumours have been circulating recently about a 30hp increase in power for the 2012 California. These rumours have been all but confirmed by dealers who are now taking deposits for a 2012 California at a premium of 2% above the out going model. At the same time, Ferrari will release a £ 5,000 HGTE upgrade, much like the one offered for the 599 a couple of years ago. A 30kg weight reduction should be felt, and upgrades to the on-board infotainment system.
Whilst these spyshots prove that something is on the books for Ferrari, it has lead to speculation that something more substantial will be presented at a later date. The photographers have suggested that the mule is fitted with a turbocharger. A dramatic revelation, harking back to the Ferrari F40, the last Ferrari to use forced induction.
At the moment, we're not sure whether the California will breed a Scuderia-style hardcore variant or whether this could be a simple model overhaul. There are of course plenty of other options. It could be a test mule for a different type of engine. Perhaps the Enzo-successors engine. Admittedly, this would be a long stretch as Ferrari are likely to test this engine in a mid-engined vehicle. Perhaps the label on the fuel filler cap gives us a better idea? It say's 'Only V-Power'. Why would Ferrari employees need to be reminded?
For a complete gallery of these pictures visit Autoblog.