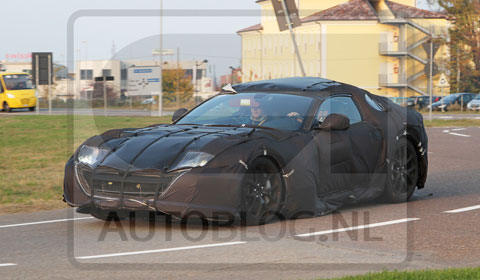 Winter is coming in Europe, enough reason for Ferrari to wrap their latest F152 test vehicle in a warm winter jacket. This F152, or F620 as it might be called, Ferrari 599 Successor is due to be unveiled at the Geneva Motor Show in March 2012. The disguise leaves a lot to the imagination of what the future Ferrari GT flagship might look like.
However Autoblog.nl reports that the V12 can clearly be heard, no wonder with a 6.3 liter V12 under the hood. This new GT will at least 700 horsepower, making it more powerful than the 599 GTO and the FF. The power will be transferred to the rear wheels via a seven-speed twin-clutch transmission with a F1-style electronic differential. These specifications would ensure a performance similar to its main competitor, the Lamborghini Aventador.
The new Ferrari is expected to go on sale in late 2012 and the price is set to increase from the 599s £ 212,000 to around £ 225,000 for the F152 / F620.