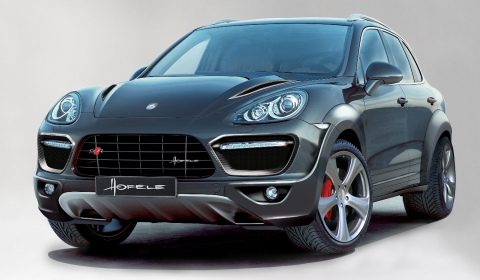 German tuner Hofele is planning to release their Hofele Cayster GT 670 program for the 2010 Porsche Cayenne 958 at the Essen Motor Show 2011. The show starts at the end of this month and the Germans have released their program details for the second generation Porsche Cayenne.
Hofele-Design increases the power of the 3.0 TDI V6 Cayenne from 245hp to 315hp and the torque from 550 Nm to 650Nm. For the Cayenne S Hybrid they increase the power from 380hp to 481hp and the torque from 580Nm to 737Nm.
The twelve-piece body kit features an aero dynamic front end attachments with openings for the original fog lamps, wheel arch extensions (25mm wider per side), and rear apron diffuser. Another design element are the four-tube stainless steel tailpipes which are available as interlaced double oval or double round version. These tailpipes are bolted onto the serial Cayenne mufflers. The interaction of these four-tube tailpipes with the wider diffuser rear apron makes the rear of the Cayenne look very powerful, according to Hofele. As alternative the Hofele-Design rear apron can be combined with the original Cayenne tailpipes.
Most parts of the body kit are simply glued onto the car without any changes and can be used for all Cayenne models, including the Turbo version. Optionally available are carbon mesh inserts for the original Turbo front bumper, made of real carbon. The new Cayster sports bonnet has a middle power-dome and two big air intakes with two carbon inserts for the air intakes, made of real carbon. The sports bonnet is made of heat resistant CB composite material and consists of two dishes.
The SUV rides on variety of designer wheels in sizes between 20 and 22 inch. The electric lowering module lowers and lifts the Cayenne with air suspension. While standing and up to a speed of 80km/h the car is lowered up to 40mm. On speeds over 80km/h the module is deactivated to retain the serial height to give the chassis its full comfort and reserves on high speeds.
On the inside, you can get a bi-colour StarLight leather interior with nested stripes, inserted leather crest, quilted elements and offset decorative stitching. The door panels and arm rest can be covered with leather as well. Hofele offers a set of carbon panels for the middle console, dashboard, and doors.