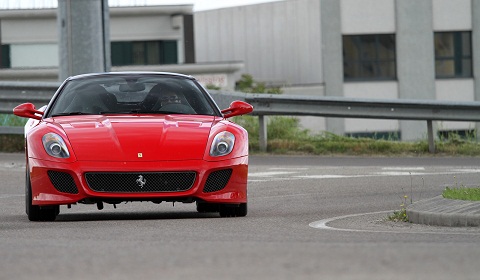 Recent rumours suggest that Ferrari will release a special, lightweight 599 in honour of their Formula 1 driver Fernando Alonso. It's unclear how lightweight the Ferrari 599 Alonso Edition is expected to be, or which model the car will be based on. Some are saying it will be limited to 40 cars worldwide and is set for a January 2012 release.
Together with these rumours, we hear that this special edition could potentially extend the life-span of the current 599 past the expected 2012 replacement date. Posters on Teamspeed and FerrariChat have been debating the news with several being informed by dealers that there will be a 599 Alonso Edition, and some even claiming to have seen a design for the 2012 599 replacement.
So what can we expect when the 599 replacement hits the market? The replacement will most likely use the naturally aspirated direct injected V12 from the brand new Ferrari FF. It is expected that the 599 replacement, code-named the F152, will get 700hp and a 0-100km/h time of 3.2 seconds. Expect top speed to be somewhere around 215mph. An aluminium and carbon monocoque should help keep weight down. Styling-wise, some have said the looks will be reminiscent of the Alfa Romeo 8C, expect it to take heavily from the 458 Italia and use plenty of parts from the FF.
It's best to take this information as unreliable for the moment. We would defintely be interested in seeing more of a lightweight 599, perhaps based on the GTO with even more technology taken from the 599 XX. However, it looks pretty set that Ferrari will replace the 599 in 2012 as replacements have been regularly spotted.
Perhaps the 599 Alonso Edition is a reference to this, 599 GTO with Ferrari Formula 1 liveries. The video below shows the car in the hands of the man himself, Fernando Alonso at Fiorano recently. The poster of the video calls the car an F10 Tribute Edition. It is in fact a customer-specced 599 GTO.
[Picture Credit: Arthomobiles]